Welcome to
Torrid Technologies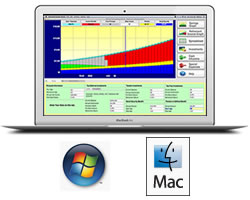 RetirementView Software
[24th Anniversary Edition]
"Keep It Simple" Retirement Planning for Everyone – Runs on Windows or Mac – "Fill-in-the-blanks" simple!

Learn more about: Personal, Couples, or Professional Edition

QUICK. SIMPLE. VISUAL. Retirement Planning

For individuals and couples:  "Do-it-yourself Retirement Planning."
For financial advisors:  "No more headaches from complicated software."

So easy anyone can understand it, even if you aren't that good with a computer. In less than 15 minutes, you can punch in basic data and have Retirement View generating meaningful and accurate retirement savings projections.  Even more important, the easy-to-read charts display in "red" any projected shortfall. It's also comprehensive. Unlimited investments. Unlimited cash infusions and income streams. Unlimited Expenses.

Great for: Individuals, Employees, 401(k) Plan participants, Financial Advisors, Insurance Agents, Brokers, Certified Financial planners, CPAs, Employee Benefits consultants, TPAs, Plan Sponsors, 401(k) Enrollment Meetings, 401k Education, 403b education, IRA savings, Financial Advisers, Registered Representatives.